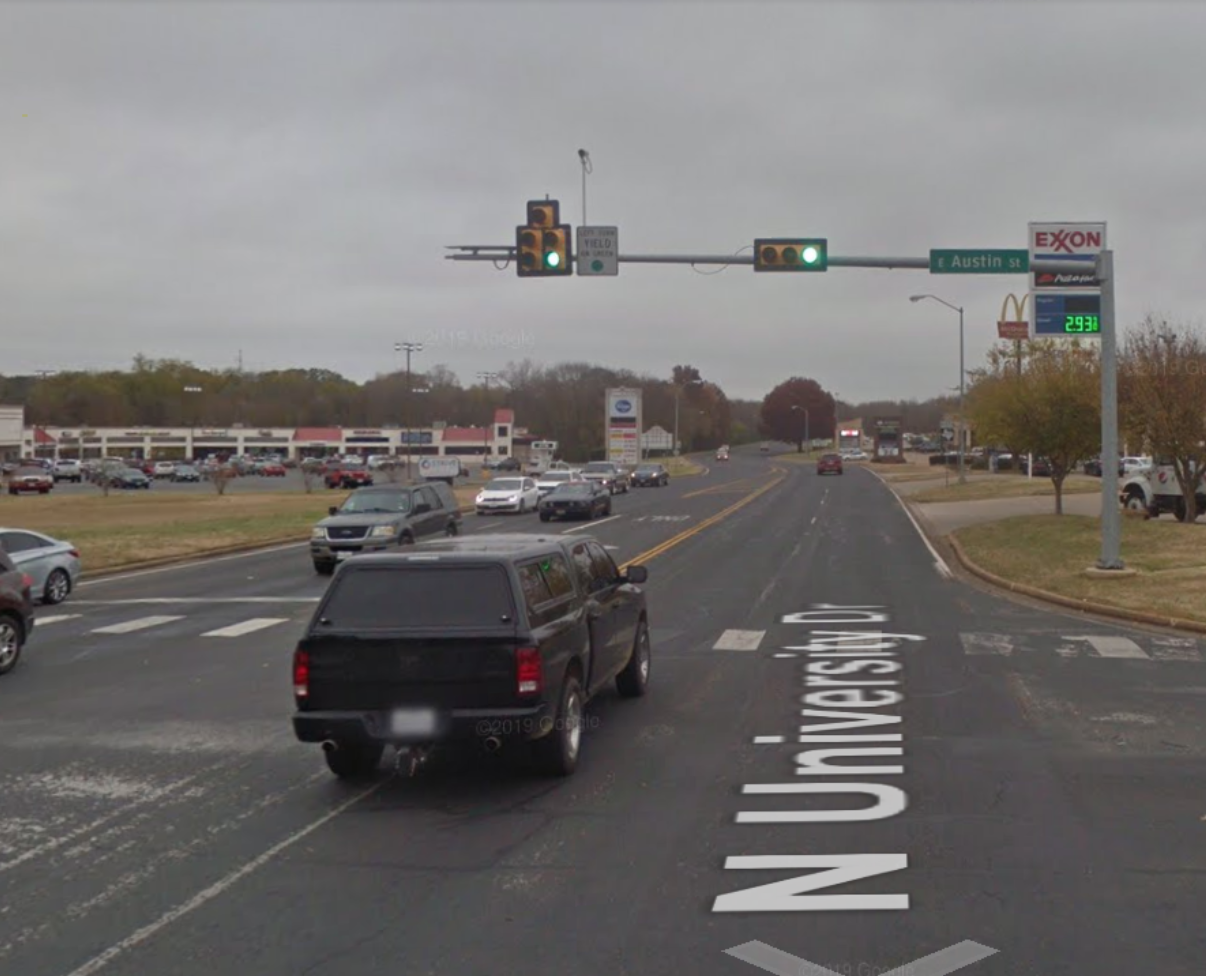 Tuesday, June 17, 2020: NACOGDOCHES, Texas – A woman suffered serious injuries in a multi-vehicle crash in Nacogdoches on Tuesday. Police and fire units responded to a three-vehicle crash at the intersection of N. University Dr. and E. Austin Street. According to a press release from the Nacogdoches Police Department, the accident happened at 6:07 p.m. Tuesday.
The investigation revealed that a GMC Canyon pickup driven by Zachary Cleveland of Nacogdoches was northbound on N. University and collided with a westbound Volkswagen car driven by Margaret Naranjo, also of Nacogdoches. The collision sent both vehicles northbound, colliding with a Ford Ranger pickup, driven by Lucresha Phillips, a resident of Nacogdoches.
The release said Cleveland and Phillips were uninjured in the accident, however Naranjo suffered serious injuries and was transported to Nacogdoches Memorial Hospital, and then later flown to a Tyler hospital.  Her condition is unknown at this time.
The NPD Traffic Unit is continuing to investigate the accident to determine factors and causes of the collision.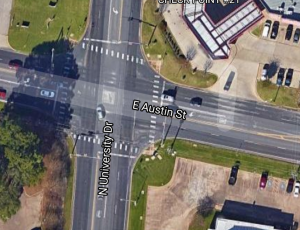 Driver Attention and Decision Making
Negotiating intersections is one of the most demanding tasks a driver faces.
To successfully execute a vehicle maneuver through an intersection, the driver must recognize available information, make a decision, and execute the desired action. Common items a driver must consider when approaching an intersection include the following:
Being aware that an intersection is ahead.

Monitoring and adjusting speed.

Maintaining lane position.

Being aware of other vehicles and objects in the environment, including the travel path.

Being aware of other users, such as pedestrians and bicyclists in the intersection.

Monitoring other traffic movements particularly in conflicting movements.

Attending to signals or signs.

Assessing adequacy of gaps for turning movements.

Rapidly making a stop/go decision in the dilemma zone.

Slowing for a turn and decelerating for a stop.

Maintaining proper lane position.

Selecting the proper lane.
If you or a loved one have been seriously injured or suffered a wrongful death due to the actions of other drivers, contact a car accident attorney who specializes in these cases to review your legal options.  You may be entitled to compensation for damages, medical treatments, and lost wages due to the incident.  
Lawyers at Carabin Shaw help clients get the care and attention they deserve after a serious accident.  Our experienced attorneys represent people and families who have suffered personal injuries, catastrophic injuries, and tragic wrongful deaths.  If you or a loved one has been injured or worse, contact us today at (800) 862-1260.
The personal injury attorneys of Carabin Shaw provided the information herein as a community service.