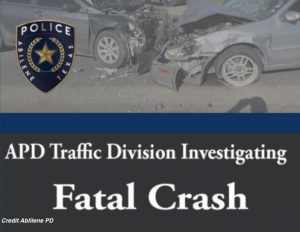 Sunday, March 14, 2021:  ABILENE, Texas
— The Abilene Police Department responded to a major vehicle crash at approximately 1:05 p.m. Saturday, March 13 at US Highway 36 and Blackburn Road.  When officers arrived at the scene, they found a pickup truck and a Dodge Challenger that had both driven off the road and the Challenger was on fire.
Witnesses said the Challenger, driven by
James Wells
, 59 was traveling north on US Highway 36 at a high rate of speed, passing vehicles on the two-lane road.
Wells tried to pass the pickup truck driven by
Mark Rodgers
, 39 of Abilene near the Blackburn Road intersection. A vehicle in the oncoming lane caused Wells to try to get back in his lane but clipped the Rodgers vehicle in the rear, causing it to veer off the road and hit a tree before stopping in a field.  Rodgers was pronounced dead at the scene while his wife and three children (ages 8, 10, 11) who were also in the truck where taken to the hospital for treatment.  Their condition is unknown.  Wells was also taken to the hospital for his undisclosed injuries.