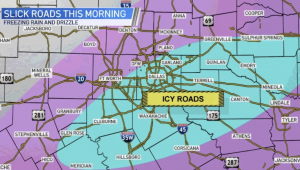 Because Texas is such a large state, some areas receive more wintry conditions than others during the winter months. As a result, many drivers do not know how to drive on icy or slippery roads, which can result in devastating Texas car accidents. To stay safe this winter season, it is crucial that you drive with care if you must travel, and to limit travel as much as possible when temperatures are particularly low and the weather is icy.
According to a local news report, six people were killed in a major car accident that involved more than 100 vehicles after a rush of winter weather that swept across Texas. Following the accident, multiple people were trapped in their vehicles, and more than 36 people were taken to local hospitals for further treatment and several were in critical condition at the scene. Videos and photos from other news outlets showed a massive crash involving multiple cars, eighteen-wheeler trucks, tractor-trailers, and local firefighters responding to the scene. Vehicles were piled on top of each other, rolled on their sides, or spun out along the sides of the road. Due to significant amounts of winter weather rolling across the state, local authorities are asking drivers to proceed with caution, especially since the roads are especially slick and icy.
According to the Texas Department of Transportation (DOT), several easy driving tips can ensure a safer, smoother, less stressful trip when traveling in unpredictable winter weather.